Fakra (SMBA ®) Automotive Connectors
Suitable for your applications in the automotive sector
Developed specifically for applications in the automobile industry, our SMBA®-plug connectors comply with the FAKRA norms for a uniform plug connector system. They conform with DIN 72594-1 and USCAR-18. Correct data transfer is guaranteed at all times even in areas subjected to high stress, e.g. from vibrations.
The normed coding system for the SMBA® plug connectors guarantees simple and rapid assembly; the locking system with primary and secondary-locking guarantees the highest possible degree of mounting and contact safety.
The SMBA® (FAKRA) connectors were specially developed for automotive applications. They are based on the SMB connector interface and meet the standards of FAKRA (Fachkreis Automobil) for a uniform connector system. Thanks to the special, standardized locking system, SMBA® (FAKRA) connectors meet the high requirements of the automotive industry in terms of functionality and safety. SMBA® coaxial connectors comply with: USCAR-18 and ISO 20860-1.
Sophisticated mechanical and color coding system with 13 different codes

Maximum assembly safety

Efficient automated further processing option

Rotatable coaxial insert and cable in plastic housing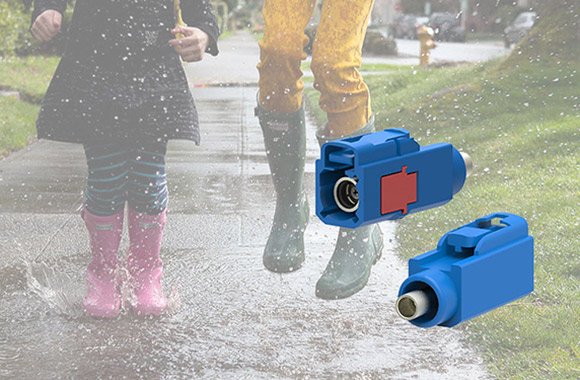 FAKRA connectors also in waterproof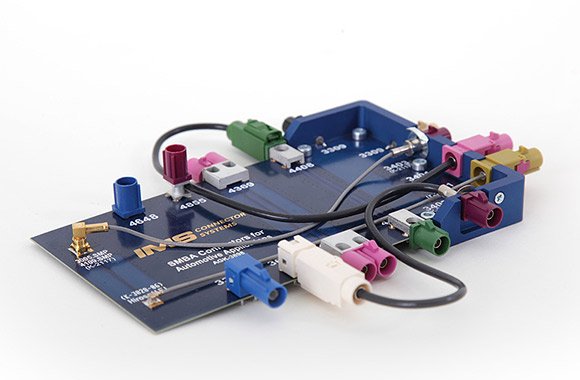 FAKRA connector SMBA automotive demo board
FAKRA (SMBA ®) PROPERTIES
Product specific highlights for Fakra connectors
Secure primary locking system with tactile and audible locking
Shock and vibration resistant coded housing
Protection against unintentional opening by protective bar and protective strips
High axial holding power of the coaxial insert due to secondary locking
Mechanical and color coding system with 13 different codes
Fastening groove for cable connectors for chassis mounting
Coaxial insert and cable freely rotatable in the housing
Pre-assembly lock guarantees correct position of the coaxial inserts in the housing
Efficient, automated further processing option
Customized packaging possible
Our fakra (smba ®) solutions