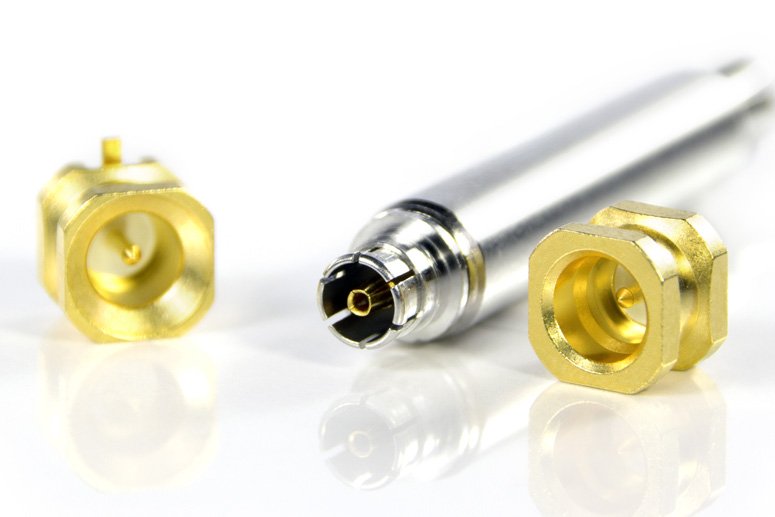 P-SMP - High Power Board-to-Board Interconnection
This newly developed P-SMP interconnection provides an excellent continuous power handling of up to 200 W at 2,2 GHz. The board-to-board interconnection is built as a three components concept: two pcb or panel types, assembled with an adaptor, the so called bullet. The minimum distance of the P-SMP interconnection is 12,6 mm. Typically one pcb board is equipped with a snap-on pcb type, also known as "limited detent" type, the second pcb board with a slide-on version, called "smooth bore" type. In combination with the bullet this compact design allows an optimized compensation of axial and radial misalignment, by featuring similar size to standard SMA connectors. With a strong focus on robustness this connector solution provides a high reliability. Individual pcb board distances can be offered through a wide range of different bullet lengths. Excellent RF capabilities make P-SMP connectors ideal for applications up to 10 GHz. This product range is typically used for pcb to pcb connections, but also suitable as pcb to cable connections, e.g. power amplifiers in base stations.

IMS Connector Systems offers a portfolio of straight and right angle cable connectors, panel connectors, pcb connectors as SMD and pin in paste types, bullets in different length and adaptors.
---
Product Characteristics
Impedance: 50 Ohm
Frequency range: DC – 10 GHz
Return loss: ≥ 20 dB @ DC to 3 GHz; ≥ 26 dB @ 3 GHz to 6 GHz
Power handling: up to 200 W @ 2,2 GHz
Mating cycles: ≥ 500 (type: limited detent)
Applications
High power board to board and board to cable interconnections where RF signal up to 200 W @ 2,2 GHz have to be continuously transmitted
Typical usages are power amplifiers in base stations
---
---